We are very excited to share the news with you guys that our indie label is growing and the first title in a pipeline for Nintendo Switch is Tallowmere, a 2D indie action roguelike-inspired platformer. We have teamed up with Chris McFarland, a New Zealand developer who created and released the game on Wii U and Steam, to port it to Nintendo Switch. Tallowmere is coming to the Nintendo eShop next Thursday, November 9th, in Europe, Australia and Americas for $/€ 6.99. The Japanese and New Zealand releases are scheduled to follow soon too
How far through Lady Tallowmere's dungeons can you delve in? Each randomly-generated room gets bigger, harder, and more rewarding the further you go. Raise your shield and hunt for the key in each room – or die trying. Be on your guard for every enemy, elite, boss, and treasure chest you'll encounter. Discover new weapons and armor ranging from Basic to Otherworldly. Brace yourself as you learn the quirks of each foe, trap, and room type so you can strive for that "one more run" high-score victory!
Randomly-generated rooms – Every time you play, the rooms are different: different enemies, different layouts, different trap placements, different events, different treasure. You never know what lies ahead.
Enemies – Archers, fire mages, conductors, zaeries, ogres, leapers… Slay them before they slay you. You can fully block their attacks with your shield, but it's easier said than done.
Traps – Spikes, poison skulls, pinwheels… Trap damage isn't blockable, so don't get hit.
Bosses and events – Hydras, mechanical nightmares, ferocious felines, flag capturing… Sharpen your skills to survive.
Loot – Hearts, coins, keys, souls, potions, rocket launchers, katanas, grenades, flamethrowers, ice wands, emerald daggers… Every weapon has a unique mechanic, giving you a choice of how to tackle your current situation. Collect all the weapons or die trying.
Tallowmere is easy to learn but hard to master:
Block enemy attacks with your shield
Strike when you have the advantage
Avoid traps
Collect loot
Spend souls to increase stats
Try not to die
You can take a few hits, but fail to block enough and you're done.. Learn how things work and you'll hopefully make it farther next time. Tallowmere features a high-score system so you can track your greatest efforts.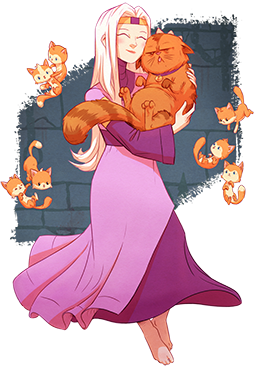 Features:
- 2D action roguelite platformer
- Supports 1-4 local players
- Infinite number of randomly-generated rooms
- Tiered loot including axes, clubs, katanas, daggers, ice wands, grenades, rocket launchers, and flamethrowers
- Local high score board and achievements
- Challenge modes
We encourage you to visit the official game page at www.tallowmere.com, where you will find many useful tips and inforamtion about the game
And here you can check some heavy action in the official trailer:
Comments